/// Salon des Individualités
Poster design by Sun Chang, 2017

\ 25th March - 1st April, 2017
\\ Galerie bipolar, Leipzig
\\\ with Anita Goes, Eric Andersson, Natalia Kalicki, Persia Phillips, Yerin Kim

A collaboration between a group of artists who wanted to work together but who didn't really fit together. A common goal to create a publication with a release party ended in an exhibition and an interactive performance that failed to, because of different wills, technical problems and changes in all directions right until the end, communicate what was going on and the thaughts we had during our process. The title Salon des individualités was set by an artist who was in the group in the beginning but dropped off, during the process we vainly tried to work against the title to prove that we were a group rather than individuals. During our performance we acted as a security guard unit which in different ways worked commonly against the visitors to keep up the order, different rules were set up and as a punishment for not obeying we forced the visitors to drink a bottle of water. Situations where frustrated visitors not managed to understand the guards rules and punishment system occured, and sometimes they even showed a violent behaviour.

Text by Eric Andersson.
///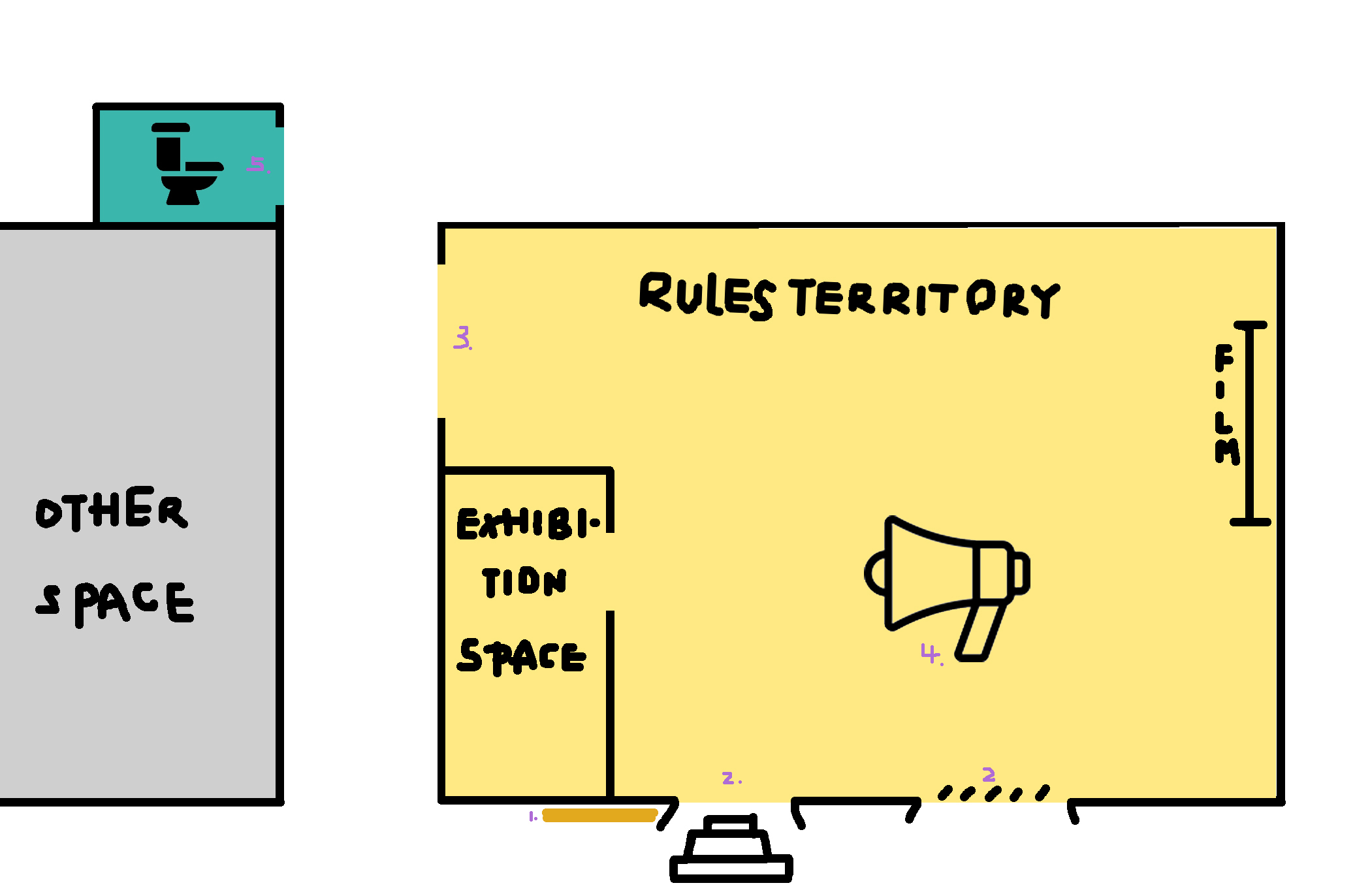 1. Upon Entering the Premises: Visitor is required to sign an agreement before entering the space.
2. Entering ways and service: Visitor has to choose the window to enter: one on the left serving with stairs, entrance fee of dinking a bottle of water; one on the right with fence, but free to enter.
3. Entering way on side: A door entrance on the side, visitor has to drink a bottle of water to enter.
4. The Rules Territory: The space is dominated by frequently changed rules created by the "Mask Rulers", and rules are announced by speakers in the space. If visitors are not follow the rules, they will be required to drink as bottle of water as fine. Few visitors will be selected randomly as "Secret Police" to maintain the system and can not follow the rules as other visitors do.
5. Toilet trap: Visitors are required to drink a bottle fo water to use the toilet room, or sale 1% their soul to the "Mask Rulers".
All the spots with signs showing at the map are guarded by "Mask Rulers".


Master Plan, original strategy plan, 2017


Sound from The Real Scene, audio documentation, 00:41, 2017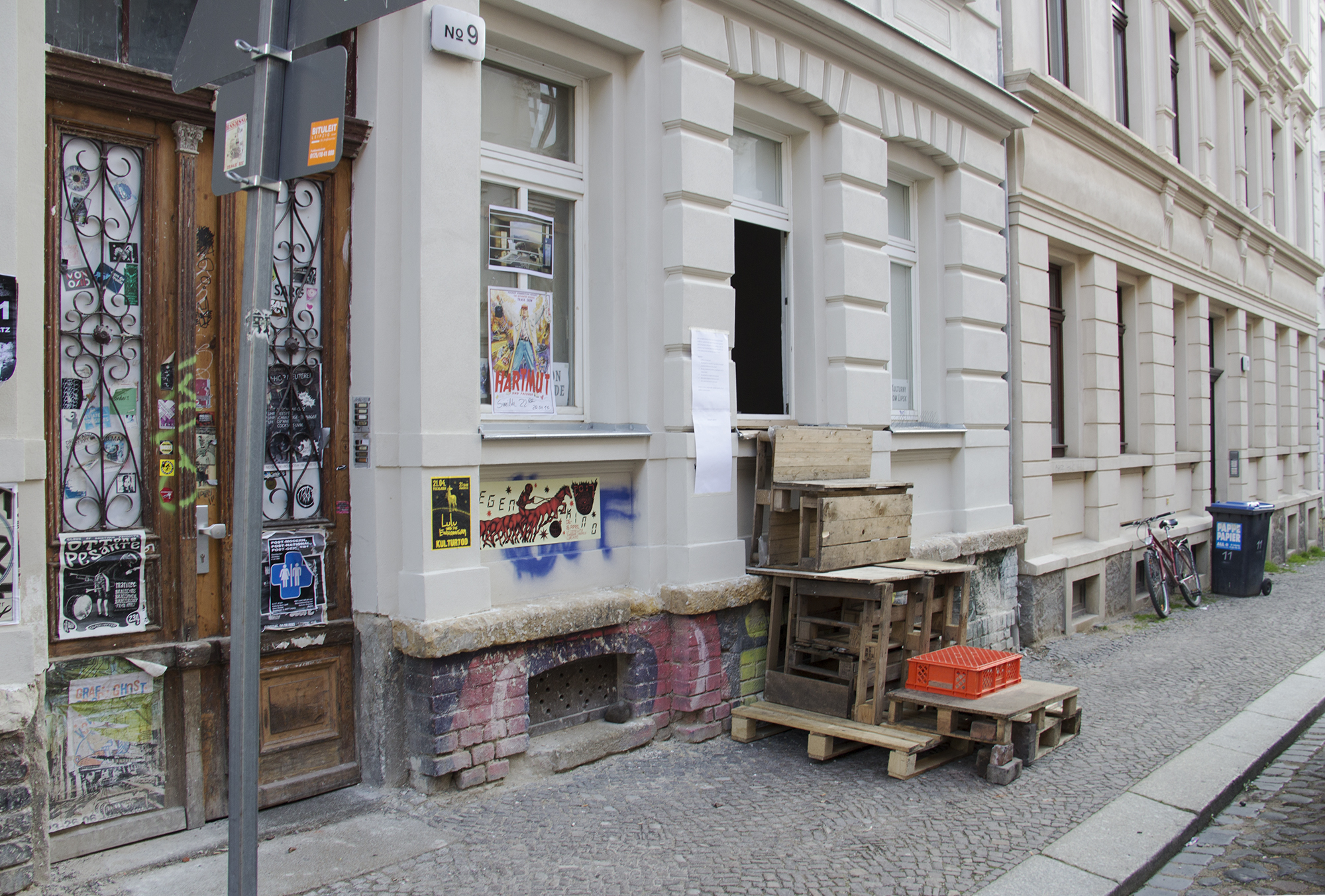 Outside look: "The Rules Territory" , photo documentation, 2017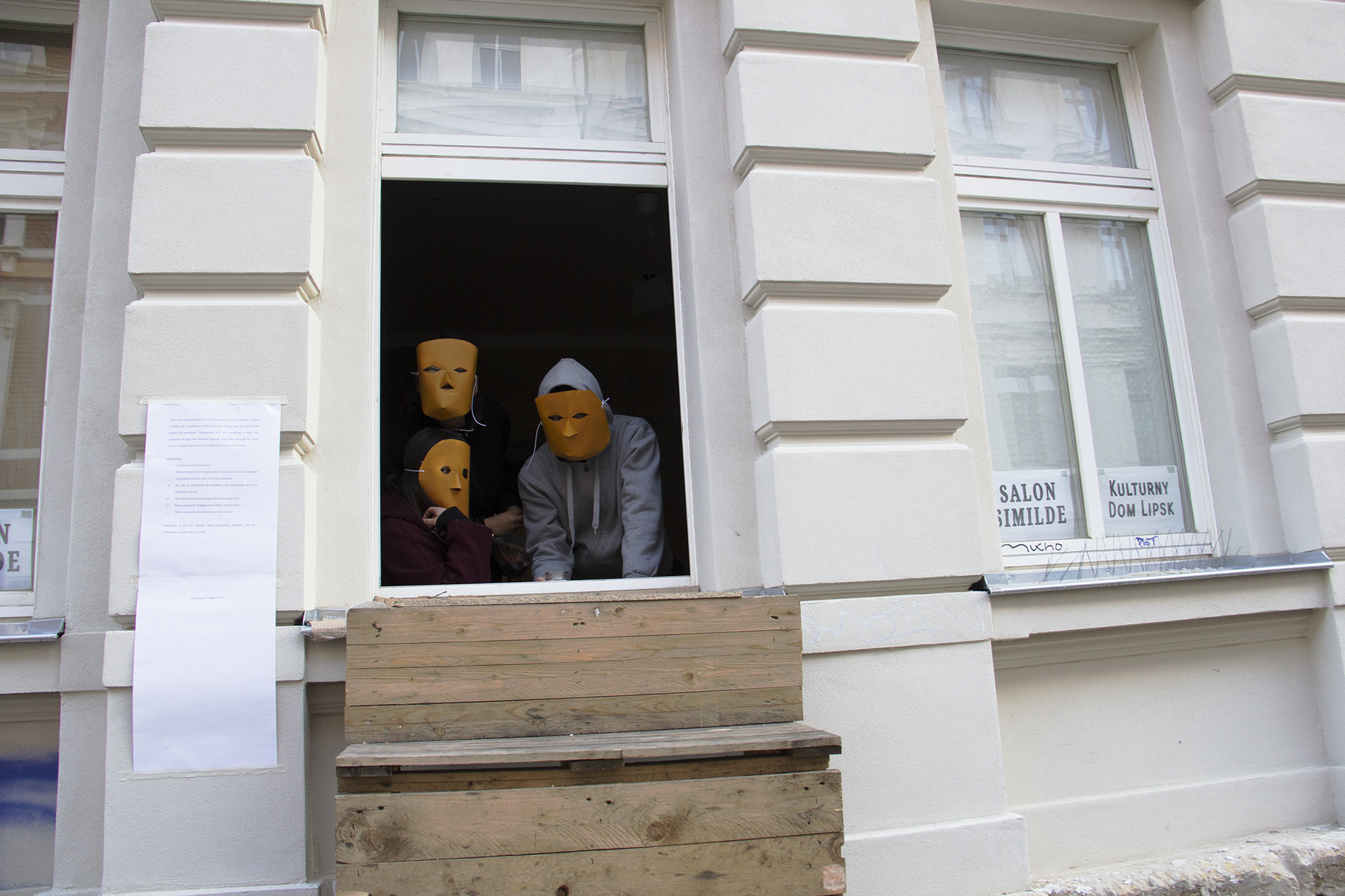 "Mask Rulers" on guard , photo documentation, 2017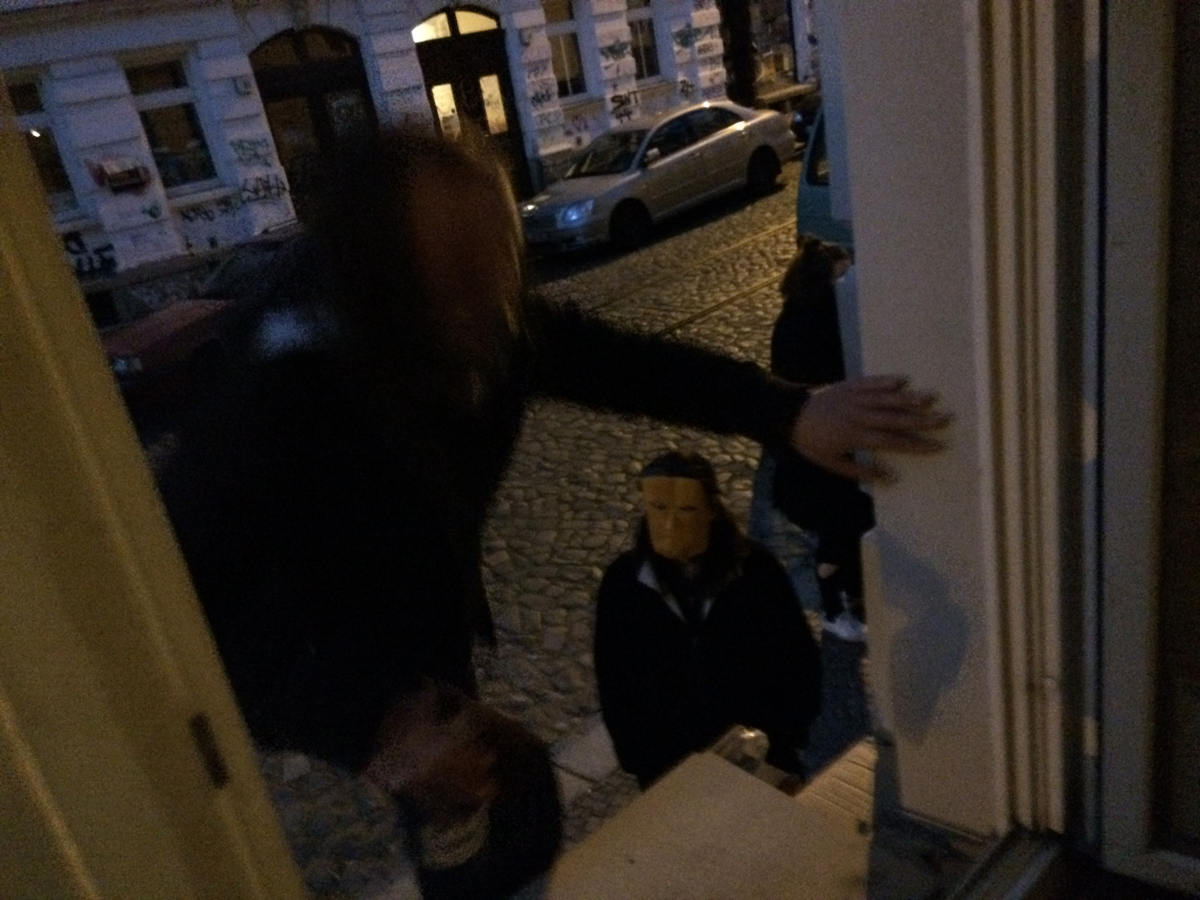 Vistor Enters, photo documentation, 2017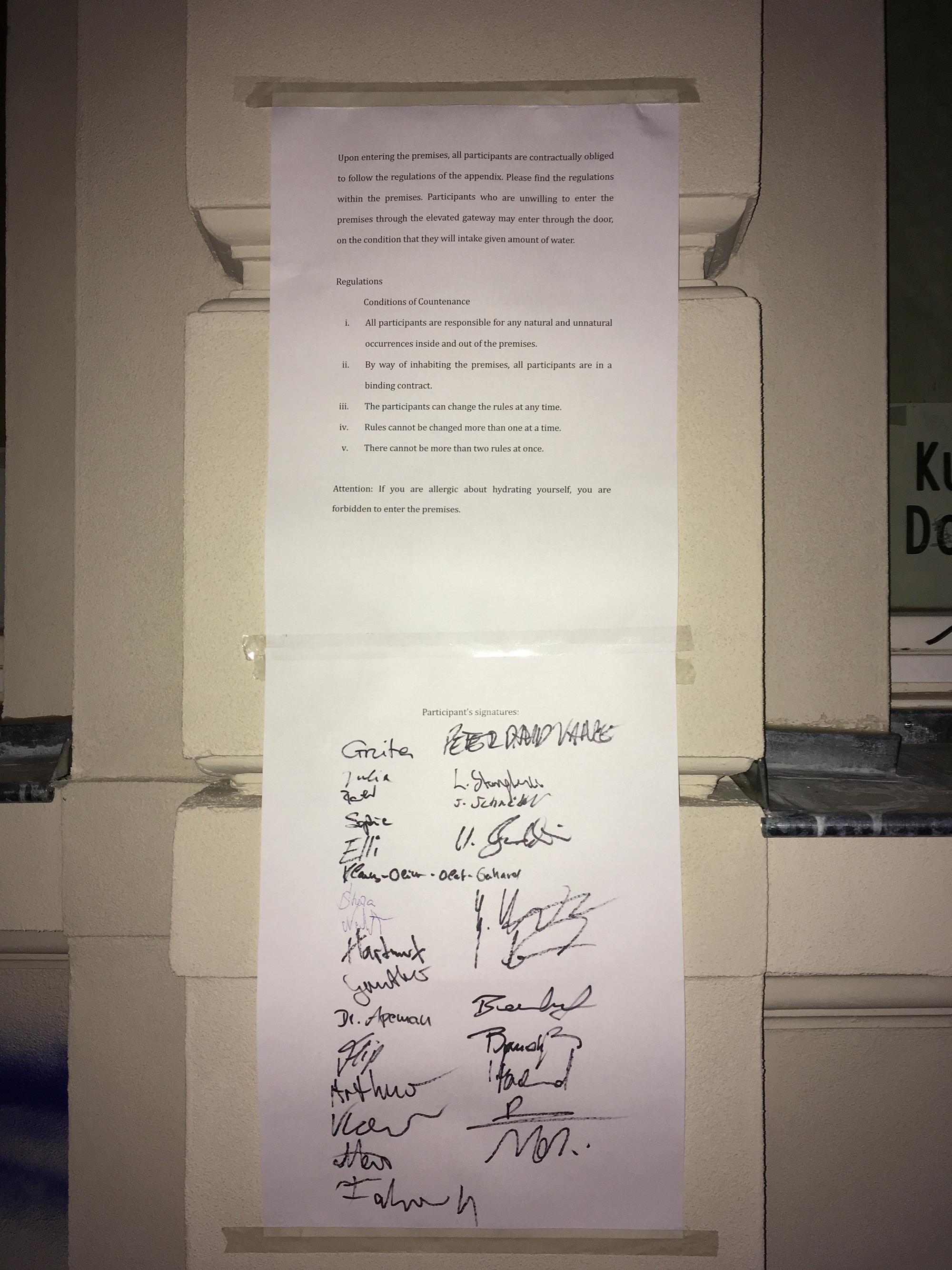 Visitor Signs, photo documentation, 2017